Tips for Buying a Computer

The computer is an integral business machine.
In today's diverse computer marketplace, the sheer diversity of consumer choice can make buying a computer a challenging affair. Shoppers can choose from dozens of computer brands, multiple operating systems, and thousands of potential hardware configurations.
While having options is generally empowering, having too much freedom of choice can be disorienting. As such, both first-time computer buyers and seasoned tech-experts often find themselves overwhelmed by the sea of seemingly endless computer options at their fingertips: many computers seem near-identical.
Fortunately, by keeping our tips for buying a computer in mind, you should able to narrow down your options and make an informed computer purchase that caters to your unique needs.
Laptop, Desktop, or Hybrid? Finding a Computer that Suits You
Most computers are designated and sold as either desktops or laptops. Both types of computers come with distinctive benefits and drawbacks and are therefore best-suited to a particular style of use. As such, our first tip for buying a computer is to determine what type of computer is appropriate for your needs.
When to Buy a Desktop Computer
Desktop computers, or "towers," are large-sized, stationary computer units. As the name implies, these computers are designed for use at a desk or table and aren't self-sufficient. To operate one, you'll usually need to attach a monitor, a keyboard, and a mouse. Although, some desktop computers, such as Apple's contemporary iMac models, feature built-in monitors.
Typically, many users lean towards buying desktop computers because of their exceptional performance. Because desktops are designed for stationary use, they can be much larger in physical size than laptops. This larger form-factor allows manufacturers to equip desktop systems with powerful hardware, providing users with improved speeds and more storage space compared to mobile systems.
The obvious trade-off is that desktop computers sacrifice portability for performance, but today's computer users tend to invest in a laptop or mobile device to compensate for this lack of convenience.
When to Buy a Laptop Computer
Unlike desktop computers, laptops are designed for portability. Most laptops feature thin, lightweight designs. They can be carried with little effort and their foldable screens further reduce their size.
To remain truly mobile, the vast majority of laptops are built with rechargeable lithium-ion batteries, which allow the computer to continue functioning on reserved energy without requiring external power.
However, the compact designs of laptops are also the source of their greatest weakness. To remain lightweight and portable, laptops can't contain the same high-powered hardware of desktop computers. As such, laptops are ideal for computer users who are often on-the-go or buyers who don't mind forgoing performance for mobility.

Laptops and smaller devices are popular due to their portability.
When to Buy a Hybrid Computer
Hybrid computers essentially act as a "middle-ground" between the conventional clamshell laptop and today's highly-popular touch-based tablets by integrating the designs of each. These systems often feature removable keyboards and are sometimes dubbed "2-in-1" computers, referring to their modular design.
Hybrid computers are best-suited to mobile-centric users who enjoy the intuitive touch-based interfaces of tablet devices but also need a dedicated keyboard and the function of a full-scale operating system.
However, like laptops, the sheer convenience and flexible form-factor of hybrid computers comes at the cost of performance. Generally, hybrid systems can't compete with their laptop equivalents in terms of processing power and storage space, and naturally, they struggle to hold their own against most low and mid-range desktop computers. But, if adaptability is a priority of yours, a 2-in-1 system might be your best bet.
Determine What Kind of Performance You Need Before Buying
Our second tip for buying a computer concerns the level of processing speed and graphical power that you expect or need from your system. Depending on what you use your computer for, you may want to invest in more powerful hardware or opt for a blend of performance and value.
Regardless of your preference, by setting some standards, you'll minimize your chances of purchasing a computer with sub-par performance. On the other hand, you'll also avoid regretful spending on a computer that exceeds your needs to the point of redundancy.
In the following section, we'll break down each main component in most computers and explain what it does and why it's either important or negligible in the context of how you use your computer.
CPU Speed and Why it Matters when Buying a Computer
As its name suggests, the Central Processing Unit (CPU) is one of the most essential and formative components of any computer. Across all systems, from PCs to Macs, CPUs are responsible for the majority of processing or "thinking" that a computer does. In general, the higher a CPU's clock speed the quicker it can complete processes.
Because the CPU plays such a pivotal role in the speed and performance of any computer, laptop or otherwise, CPU speed should always take priority when shopping for a new system. Power users should always aim for a high-performing, multi-core CPU, but for general and light use, a low-to-mid-range dual-core or quad-core processor should suffice.
RAM and Why it Matters when Buying a Computer
RAM, or Random Access Memory, is another essential computer component that contributes significantly to a computer's overall speed and stability.
Essentially, RAM acts as temporary or "short-term" memory, giving your computer room to quickly read and write data that isn't necessarily committed to long-term storage. Generally, having enough RAM will keep your computer running smoothly, especially during heavy multitasking and high-intensity workflows. However, if you're not using RAM-intensive applications, you can get away with less.
Here's what we recommend:
General/light computer users should be well-off with 4GB to 8GB of RAM
For multitaskers and business use, 8GB of RAM or higher is optimal
For high-performance and gaming, 16GB of RAM or more is needed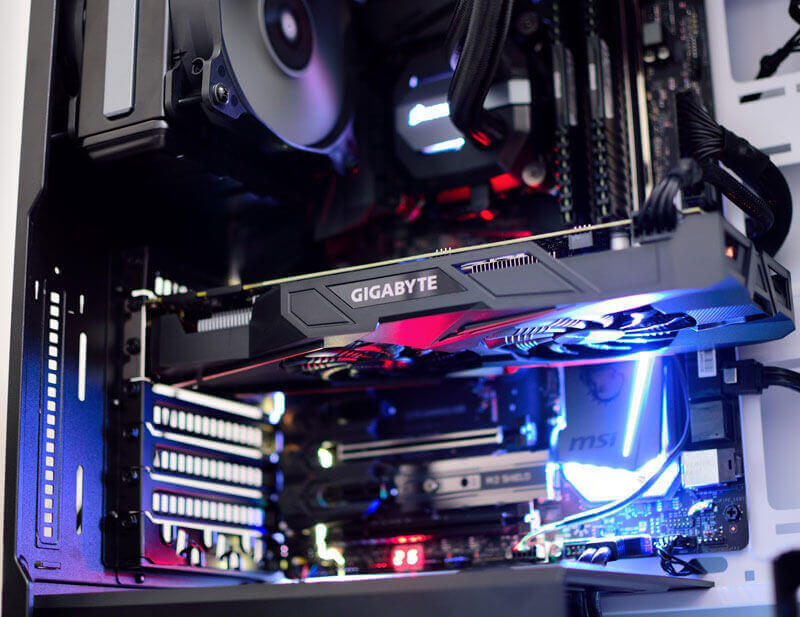 The internal architecture of a computer.
GPUs and Why They Matter when Buying a Computer
The final component on our list of computer parts that should take priority when shopping for a new system is the GPU, or Graphics Processing Unit.
The GPU is chiefly responsible for outputting a computer's visuals, including anything from spreadsheets to high-resolution 3D imagery. Although CPUs can process a limited amount of visual data, GPUs are explicitly designed to shoulder the responsibility much more efficiently than a CPU could.
GPUs are often overlooked and undervalued by consumers when buying a computer. Many consumers believe that they don't need a capable GPU at all. Unfortunately, this is rarely true.
Fortunately, most modern laptops and desktops include dedicated and capable GPUs, which will help to keep things running smoothly during general use. However, if you work with graphically-intensive applications like Adobe Premiere or 3ds Max, you may want to consider investing in a higher-end GPU.
Know Your Budget and How to Spend It
Our next tip for buying a computer involves getting the most value for your dollar, and we mean that subjectively. Sure, everybody wants to save money on electronics, but there's no reason to pay more for computer features you won't use or less for an affordable computer that fails to satisfy.
Instead, this section is all about getting the most out of your purchase by balancing your desires and expectations with your budget.
Computer Product Lines & Price Tiers
Most computer manufacturers understand that buying a computer can be confusing and that a little granularity goes a long way. That's why Apple, HP, Lenovo, and many other big-name companies often organize their computer models via product lines and price tiers.
Sure, names like "VivoBook" and "MacBook Pro" might seem like marketing mumbo-jumbo. But, if you pay close attention to the deliberate distinctions between product lines and price tiers, you'll likely find that it's easier to find exactly what you're looking for.
For example, HP's robust EliteBook series is geared towards business-class buyers and is built to last, even under extreme conditions. On the other hand, the ASUS Chromebook Flip is a hybrid laptop that caters to creative types and features a convertible touchscreen design.
If you're thinking of buying a computer and you find a product line that resonates with you, the second step is to examine the line's pricing tiers. Take a look at what each model includes and consider what's of value to you within each category (CPU, GPU, RAM, accessories). You might get more value by spending less!
Sales & Discounts
Many computer manufacturers regularly hold sales and provide discounts on even their most popular and high-end models. Indeed, one of the most common tips for buying a computer is to hold off until a discount or sale is available.
In some cases, you can also buy refurbished computer models directly from the original manufacturer or through third-party sellers. Generally, refurbished desktops and laptops are pre-owned computers that have been restored to like-new condition and often sell for less than half the price of a new unit.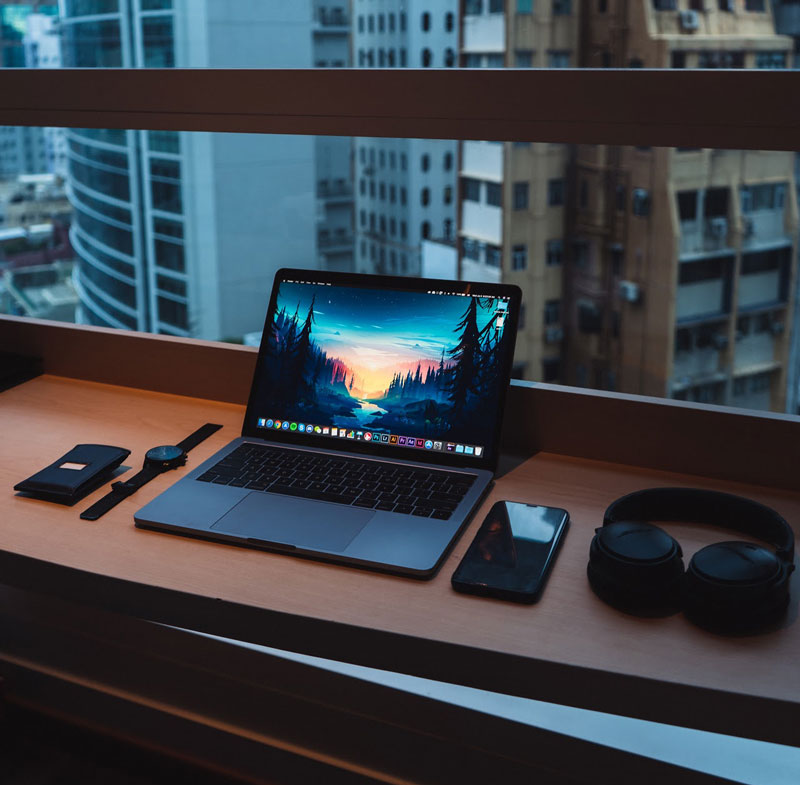 Computers are an integral, modern tool.
Choosing an Operating System
Aside from build and specifications, a computer's OS--or operating system--has a great influence on user experience. While many buyers opt to buy computers that run the operating systems that they're familiar with, we recommend taking a different approach.
By taking a closer look at what each operating system offers when buying a computer, you might discover that one OS satisfies your needs better than another. In other cases, less functionality can actually mean more, meaning that a simpler, more minimalistic operating system might be preferable to a feature-rich, complex one.
In this section, we'll examine three of the top computer operating systems to determine the strengths, weaknesses, and potential advantages of each.
Microsoft Windows
With over 75% of the market share, Microsoft Windows is easily the most popular operating system in the world. As you might expect, it's also the OS that most computer users gravitate towards when buying a computer.
Windows has seen its fair share of adversity over the years, but with each release, Microsoft has learned from its mistakes. Today, Windows is easy-to-use, fast, and compatible with more programs than any other OS. Its interface may not be as slick or refined as other systems, but Windows continues to assert its dominance by providing a consistent and reliable user experience.
Apple Mac OS X
Introduced in 2001, Apple's Mac OS X is the second most popular OS in the world. Customers often choose Mac OS X when buying a computer due to its intuitive and user-friendly design, which appeals to students, families, and professionals.
As Mac OS X has increased in popularity over the years, it has expanded its compatibility with many applications that were previously Windows-only. However, many popular programs and the vast majority of computer games remain exclusive to Windows.
Chrome OS
Google ventured into unfamiliar territory with their initial release of Chrome OS in 2011. The Linux-based OS is designed to be fast, lightweight, and minimalistic and comes installed on many laptop devices from various manufacturers called "Chromebooks."
However, Chrome OS's nascent development status and simplistic design limit its compatibility with the thousands of applications available for Windows and Mac OS X, making it best-suited for general use only.
Discount-Computer.com: Your Trusted Source for Buying a Computer Online
From Apple MacBooks to Dell desktop systems, Discount-Computer.com is your one-stop-shop for durable, expertly-refurbished Macs and PCs.
We thoroughly clean, dust, and refit our systems as needed to provide you with powerful computers at affordable prices. We also offer:
Custom orders and volume pricing
Dependable online and phone-based customer support
A 14-day hassle-free return period
Place your order with us today and get free shipping on all purchases of $75 or more!
Recent Posts
No matter what your new startup company does, you and your employees need serviceable laptops and …

When you land a new job that requires travel or allows you to work from home, you will want to ma …

Are Refurbished Laptops Good? It's a common question, especially considering many of the&nbsp …